Monday, January 5, 2009 at 10:06PM
To this day,
Three's Company
remains my favorite television show of all time. I started watching in kindergarten (don't ask me how my parents allowed me to) and have seen every single episode countless times and it just never gets old. There is something so comforting and nostalgic about those three crazy kids, the Roeper's, Larry and Mr. Furley. Three's Company was way more than just "jiggle tv" and misunderstandings with sexual double entendres. I count it as one of the greatest sitcoms ever devoted to gastronomy. It was only after I became involved with wine did I notice all the great wine and food references. The earlier episodes were set in the late seventies when Jack Tripper was studying to become a chef at Santa Monica Technical School. He was a true gourmand and hardly an episode went by without some reference to crepes Suzette, poulet a la brouchette, escar-got, 1967 Pouilly Fuisse and Grand Marnier Souffle. The cast frequently enjoyed wine while entertaining at home or at the Regal Beagle and if you look closely enough, the poster on their refrigerator is all about wine. If you want to know about fine dining during the seventies, just watch an episode of
Three's Company
.
A few years ago, I attended a signing for my friend Wendy McClure who had just launched her book The Amazing Mackerel Pudding Plan. The book is based on a set of Weight Watcher's recipe cards from the seventies that had belonged to her mother. The photos of the food are absolutely hilarious and Wendy's commentary is even better. I collect cook books of all kinds and her book inspired me to start a collection of older books - especially those produced between 1950-1979. The recipes and photos are a time capsule of the way we used to eat and they really show you how far we have come with cuisine and food photography.
This past weekend, I found two great new books for my collection. They are the sort of books I imagine Jack Tripper would have consulted in order to make dinner for Janet & Chrissy/Cindy/Terri or Greedy Gretchen.
The first is Betty Crocker's Cooking with Wine from 1974.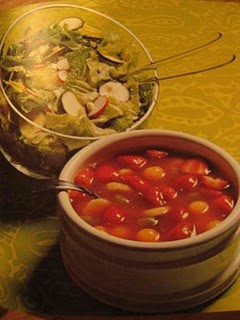 That's not minestrone, it's fresh fruit soup made with rose wine. Those garbanzo bean looking things are actually melon balls. Mmmm...good!
And here we have a lovely Salmon Steak Bake with green grapes and red wine, an elegant Tangy Tomato Fish and a properly Sauced Shrimp. Three tasty ways to get your omega 3.
The second is
Cooking with Wine
- A Sunset Book from 1972.

This book features some really cool old school recipes such as Beef Bourguignonne & Chicken Veronique. What really caught my eye was a recipe for Baekeoffe, an Alsacienne stew that was on the dinner menu at Everest. This recipe does not call for bacon but the version I remember included it.
4 medium sized boiling potatoes (about 1 1/2 lbs), peeled and cut in 1.4 inch slices
2 lbs pork shoulder cut in 1 inch cubes
2 medium sized onions, thinly sliced
1/3 cup finely chopped fresh parsley
2 cloves garlic, minced
2 bay leaves
1 1/2 teaspoon salt
1/4 teaspoon pepper
1 small bottle or 1 3/4 cups dry white wine
1/4 cup butter
Lightly grease a 3 or 4 quart casserole; layer in half the potatoes, top with half the pork; then add half the onions and half the parsley, 1 clove garlic and 1 bay leaf. Repeat with remaining potatoes, pork, onions, parsley and garlic, finishing with bay leaf. Sprinkle salt and pepper over all; slowly pour in wine and lay butter pieces on top. Cover and bake in a 375 F oven for 1 1/2 hours until meat is tender. The book recommends serving it with Rhine, Traminer or Gewurztraminer. I recommend Gewurztraminer, dry Alsace Riesling or Pinot Noir.