Monday, December 29, 2008 at 04:21PM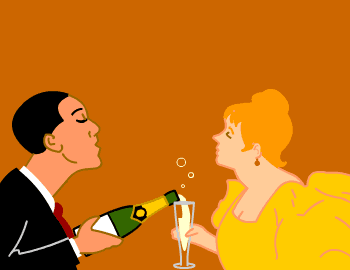 Whether you have decided to stay in or go out this New Year's Eve, you will definitely need something frothy and bubbly in your glass come midnight. Buying sparkling wines can get real expensive really fast especially if you are entertaining with it - after all, who ever says no to a glass of bubbly? The trick to finding a tasty yet affordable bottle is to select the unexpected and go for the unadvertised. I'd rather have a producer spend the cash in the vineyards and not in magazines. You also don't have to stick to just Champagne - there's plenty of sparkle to be found in Spain, Italy and here in the US. Here are my picks to help you ring in the New Year in style without spending the equivalent of your mortgage payment. And in the event you are serving Krug or Salon this year, I'm more than happy to stop by for a toast.
If you want more hands on attention, then I would suggest paying a visit to Mr. Champagne - Sir Charles Stanfield, the Champagne buyer at Sam's Wine and Spirits. He is one of the most knowledgeable experts I know when it comes to all things bubbly. Sir Charles was inducted into the prestigious L'Ordre des Coteaux de Champagne, the guild formed during the reign of King Louis XIV in the 17th century. He usually works out of the Marcy Street store on North and Clybourn but I would call ahead to make sure he is working.
Best Sparkler Under $10

Segura Viudas Brut Cava - Spain $8
Cava is Spain's answer to Champagne and Segura Viudas is our go to sparkler for entertaining larger groups as it is an easy and affordable way to add a touch of class to the evening before things get ugly and the doorman calls about the noise. Many of our friends mistake it for something far pricier.
Other Notable Selections Under $15
Charles de Fere Sparkling $8
Cristalino Blanc de Blancs or Rose $7
Francois Montand Blanc de Blancs or Rose $12
The Best of the French from California
Roederer Estate Brut - Anderson Valley $22
This is the California outpost of famed French Champagne house, Louis Roederer - makers of the uber luxe Cristal. They set up shop in Mendocino in 1988 and I have often preferred their California wines over their French selections. If you are looking for a splurge, the vintage Roederer L'Ermitage for around $47 is well worth price.
The Best of the French from New Mexico - yes New Mexico
Gruet Blanc de Noirs, Brut, Rose & Demi Sec - New Mexico $14
I just love Gruet for several reasons - it tastes great, it's affordable and it's from New Mexico. The property was founded in 1984 by French Champagne house Gruet after a family vacation to the Southwest. The vineyards, located 170 miles south of Albuquerque are some of the highest in the US at an elevation of 4,300 feet above sea level. That's dedication! Gruet comes in several varieties. The Blanc de Noirs is a touch more fruity and earthy than the Brut which is more toasty and nutty. They also make a dry rose as well as a Demi-Sec.
If Prosecco is your pleasure
Nino Franco Rustico $15
There was a nifty article about Prosecco taking over the bubbly market in the NY Times on Sunday. It's a bit of a long ready but perfectly illustrates the growing popularity of Prosecco especially in this difficult economy. Prosecco is less expensive to produce than Champagne since the second fermentation takes place in large vats and not time consuming single bottles. The resulting wine is fresher, lower in alcohol and fruity. Prosecco also lacks the toasty and nutty flavors of Champagne so it's perfect for making a Bellini. I'm highlighting the Nino Franco here but be sure to look out for Col Vetoraz, Villa Sandi and Bisol - especially their high end selection from the very much prized area of Cartizze.
Sparkling Wine from South Africa? Yes We Can!
Graham Beck NV Brut - $16
In 1994 Graham Beck Brut NV was chosen as the celebratory drink at the inauguration of South Africa's first democratically elected president, Nelson Mandela. More recently, after declaring his intention to run for president in February this year, Barack Obama took his wife, Michelle, to one of their favourite restaurants in Chicago. The sommelier recommended two glasses of Graham Beck Brut NV. The Obamas were so impressed with this bubbly that they ordered six bottles for election day. The corks were then ceremoniously popped to celebrate the election of the 44th American president before Barack Obama addressed the world at Grant Park.
The Best Value in Champagne
Pierre Peters Blanc de Blancs Cuvee de Reserve $50

When it comes to Champagne houses, not all producers grow the fruit that is used to make their wines. Pierre Peters is part of a growing (no pun intended) movement of producers who grow AND produce everything they make. They don't have the budget to advertise and hip hop stars don't sing about their products but this is what keeps the price down. This is 100% Chardonnay from vineyards located in the grand cru village of Les Mesnil Sur Oger - an area which is a source of fruit for high ticket producers including Krug and Salon, both of which sell for hundreds of dollars. It is crisp and toasty with notes of hazelnuts and brioche. A real bargain for the price when you consider the pedigree of the vineyards. If you are looking for a real splurge, check out the Vintage 99 Pierre Peters for $70.
Don't forget the Rose
Rose wine may not have the best image but in Champagne, the best and most highly prized wines are pink. Regular Dom Perignon sells for $120 a bottle but their rose costs over $450 a bottle. I love Rose Sparkling wine and the two that I would recommend are Louis de Grenelle Saumur Rose from the Loire Valley for $20 a bottle and if you would like a splurge try the Rene Geoffroy Rose de Saignee Champagne from grower-producer Rene Geoffroy.
For Dessert
Banfi Brachetto d'Acqui $20
This is a sparkling wine made from Brachetto grapes grow in the Piedmont region of Italy. The fermentation is arrested around 5% alcohol leaving the wine partially fermented and sweet with residual sugar. The flavors of strawberries, raspberries and black cherries make this an ideal wine for chocolate desserts. It's one of my favorite dessert wines.

A Guide to Sparkling Terms:
NV or MV - Non vintage or multi vintage. Made from a blend of wines from different years or harvests. Does not mean the wine is inferior. Producers will often blend with wines from back vintages to create a consistent, house style.
Brut - refers to a dry sparkling wine even though some sugar was added before final corking to balance the acidity. Most of what we drink is Brut. The label Sauvage means no sugar was added. Confusingly, extra brut has more sugar than brut, don't ask me why this is.
Cuvee - a French term that means blend
Blanc de Noirs - a white wine made from red grapes (no skin contact)
Blanc de Blancs - a white wine made entirely from white grapes
Rose - rose or pink in color - does not mean the wine is sweet
Vintage - all the grapes came from one harvest or year - often a good one. Year will be indicated on the bottle.
Demi-Sec - a sweet sparkling wine. Again with the confusion as demi-sec means half dry. Often served as an aperitif or with cheese and light, golden desserts. The term Moelleux is definite dessert category.
Methode Champenoise - only wines that come from the Champagne region of France can be called Champagne - everything else is a sparkling wine or other given term based on the region. This term means the wine was made using the Champagne method meaning the second fermentation which creates the bubbles, took place in the bottle - just like it is done in Champagne.