Saturday, November 29, 2008 at 01:25PM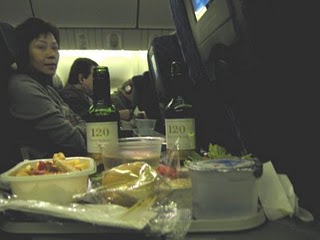 After a 10 hour flight from Dallas, I finally make it to Buenos Aires. I don't know about you but I never have that type of luck where I get to sit next to someone interesting or good looking on a flight (aside from my husband of course). This time I figured would be no exception but at least I had the majority of a row of seats all to myself so I quickly confiscated all the blankets and pillows to make a nice comfy bed. Then all of a sudden the very handsome Patrick Dempsey look a like sitting behind me asked if I was traveling alone and offered to sit next to me to keep me company. OK - this never happens to me! I weighed the pros and cons of giving up possible sleeping area for the chance to flirt with a good looking stranger for 5,000 miles and I ended up choosing the former - sleep is way too important to me and besides I'm a happily married woman. Then again, you can look at the duty free catalog all you want - you just can't buy anything. I was satisfied with my decision until right before take off when an older Taiwanese woman jumps out of nowhere, forces her way in to my row and parks herself in the middle of my sleeping quarters. She showed me her boarding pass which placed her several rows back so I tried to explain to her that this was not her seat and she needed to move but she spoke zero English and she kept smiling and nodding at me with this innocent look on her face. Patrick Dempsey even offered to exchange seats with her and I thought, heck I gave up Dr. Mc Dreamy for for this? Mrs. Taiwan would not budge so I decided this was my fate, the cabin doors soon closed, the flight attendants prepared for departure and the plane took off.

An hour later, the drink cart finally came rolling around and I was happy to discover that my $6 would be well spent on a split of Santa Rita Sauvignon Blanc from Chile. I ordered two. The meal was a choice between bland and blander. I think I ended up with blander - thank goodness for my Fiesta Mexicana salad from earlier. I drained my two portion control bottles and watched a movie with Luke Wilson portraying a dramatic role in Henry Poole Was Here. His character has months to live so he moves back to his hometown to spend his final days and then mysteriously an image of a blood weeping Jesus appears on the back wall of his new home. His Hispanic neighbor thinks it's a miracle and consults with the priest who is played by George Lopez. Meanwhile, Luke falls in love with his pretty neighbor next door and her autistic daughter who does not speak but carries around a tape recorder. The little girl touches the wall and all of a sudden she is cured. It turns out anyone who touches the wall is cured from whatever ailment. Luke is all stoic about it and doesn't want to believe yet he doesn't want to die because he wants to play house with his neighbor and all he has to do is touch the stucco and everything will be fine. I won't give away the whole story but you can see where this is going.
Three hours down, I finally fell asleep on my truncated bed. At several points during the night I felt someone prodding me. No it wasn't Patrick Dempsey. Mrs. Taiwan must have been worried about my comfort as she kept me covered with blankets and stayed upright the entire night so I could stretch my feet across the row. I pulled my legs closer to give her more room but she kept grabbing my legs to pull them straight. Don't ask me why she was doing this but I certainly appreciated the grandmotherly like gesture. I felt like a jerk for for being so selfish earlier so I tried to make amends. In the morning, I asked her how to say Thank You in Taiwanese and she responded, "You India." Sure Patrick Dempsey was good looking but Mrs. Taiwan took the cake and offered me a slice. Welcome to Buenos Aires!
tagged
airplaine wine,
santa rita,
sauvignon blanc